Seven Stones brings innovation to a garden setting so we can celebrate life in a more inviting way
When the time comes to say goodbye to a loved one and choose a final resting place, families often go the traditional route by purchasing a cemetery plot with an engraved granite headstone in a quiet, somber setting beneath century-old oaks and lilacs.
Today, Roxborough area families have close access to a more lively, modern, and sustainable alternative: a garden setting surrounded by nature that incorporates water-saving xeriscaping, beautifully landscaped walkways, patios, and gathering spaces with firepits. This is an innovative cemetery enhanced by stacked stone walls, art niches, colorful glass, metalwork, and sculpture amid the peaceful sounds of trickling brooks and waterfalls. It's the kind of place where you'd like to take a friend and a bottle of wine and just sit back and reflect on the awesomeness of life.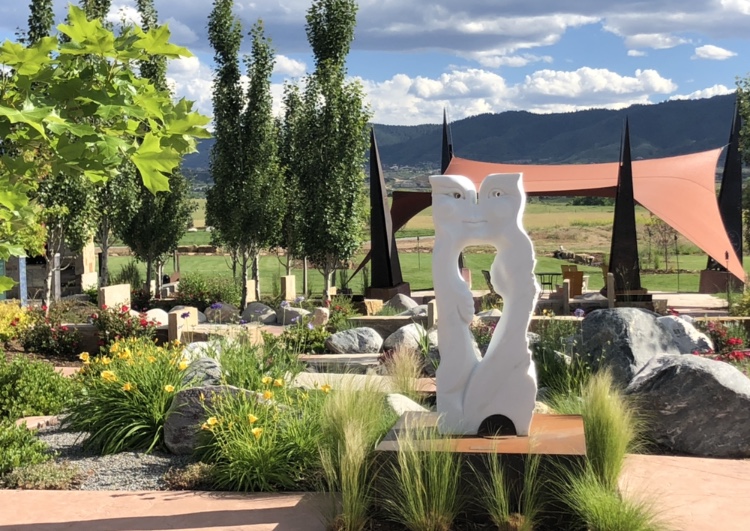 That idea is the essence of Seven Stones, a botanical gardens cemetery, which you pass by when traveling along Rampart Range Road between Roxborough and Sterling Ranch. Bordered by 150-year-old cottonwoods that hug the Highline Canal, Seven Stones is a cemetery unlike any you've seen before. It's a place for the dead, yes, but it's especially designed for the living, a tucked away refuge where people go to reflect and connect with those who have gone before them—and those still here.
"It's really a community place," says Becky Holm, Seven Stones' director of customer care, whose brother Doug Flin designed the 35-acre cemetery. She shared how the botanical gardens concept evolved after the landowner, Monte Losaw, experienced the loss of several family members in a short period and contemplated the idea of building a cemetery on his land.
Becky explained that her brother, a landscape architect with over 25 years of experience in planning cemeteries, teamed up with Monte, Monte's brother Charlie Piper, a CEO, and friend Don Guerra, who has expertise in engineering, building and finance, to make it happen. From feasibility study to obtaining water rights to construction and planting hundreds of trees and shrubs, the process took four years before their garden cemetery was born in 2016.
"They wanted to create a place that feels warm, inviting, welcoming and safe, where people want to spend time and share stories, remember and reconnect with loved ones," Becky shared of the four partners' original goal. The result, she adds, is "a celebration of life. It's not a cookie cutter cemetery."
Indeed, Seven Stones is a breath of fresh thinking in funeral care, where natural boulders replace traditional headstones and statuesque basalt, granite and art glass columns mix with stone monuments, many embedded with a QR-coded Memorial Medallion that can be read with a smartphone to display vivid remembrances of a person's life in videos, photos and touching tributes.
Relaxed furnishings, benches and Adirondack chairs mix with whimsical artistic focal points like the rustic chalkboard surfaces where visitors are invited to chalk a wish or memory, creating a personal expression of love, respect, unity. Another simple heartfelt touch: small hand-painted stones scattered across a monument, left there by a grieving child.
"Whatever is in your heart—if it's legal, we will do it," Becky says, noting that creativity and innovative thinking comes into play. "Whatever is going to help a family heal from their loss is what we're going to do."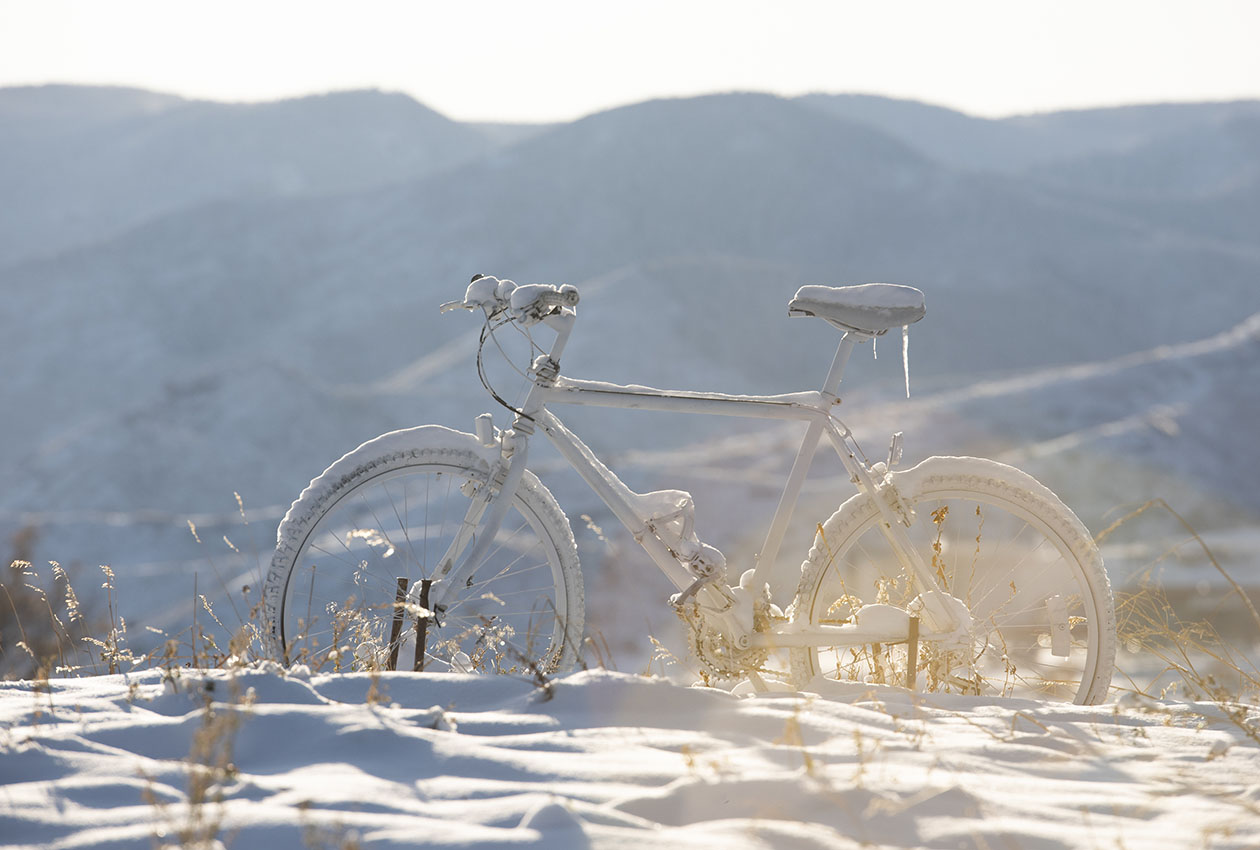 This means that if the deceased loved Van Morrison, Brazilian barbecue, and Jenga on the lawn, those elements can be part of celebrating their life.
Underscoring their "whatever-you-wish" philosophy, Becky points to the pledge on their website at www.discoversevenstones.com: "We are not drab, dark, somber, and scary. We are not rows of headstones. We are not backhoes and neglected landscaping. We are light. And nature. We are a gathering place. And an entertainment venue. We are family reunions. And a setting for stories told of loved ones. Of fathers and mothers, sisters and brothers. We are a chance to reacquaint yourself with friends and distant family. We are roses and poppies. Cottonwoods and creeks. Sculptures and waterfalls. We are where people remember, and pay honor, in a place where they feel good just being…"
So, whether families choose a funeral service with traditional casket burial on the Mystic Lawn…in a shared or private mausoleum amid the elegant Waterside Estates…or cremation placement in the Whisper Walk Garden…or natural "green" ashes placement around a Sundial Tree in the Renewal Garden, Seven Stones will accommodate it—for people—and for pets! In fact, the Forever Friends Pet Garden even offers the unique option of having ashes placed beside your furry friend.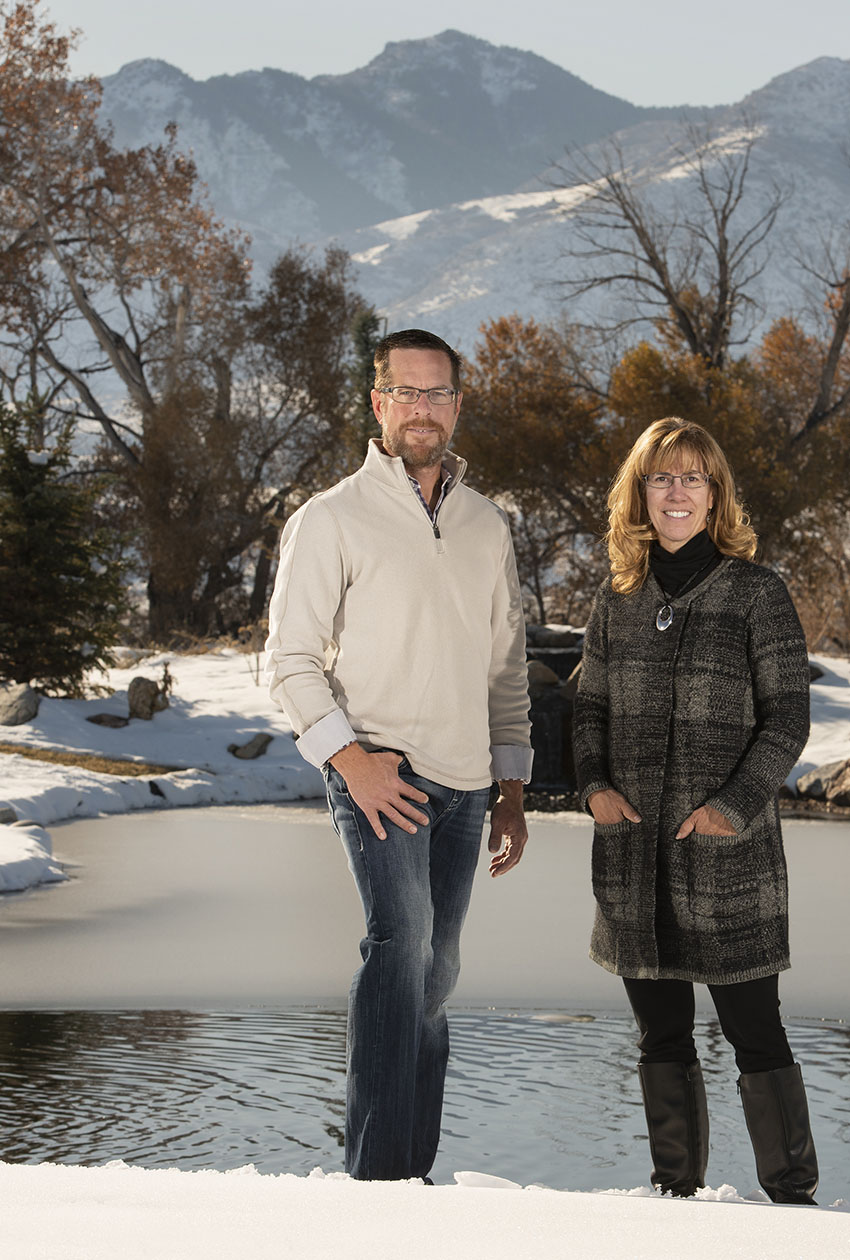 RENEWED INTEREST in an ancient practice inspired the creation of the unique Meadow View Garden, designated for environmentally friendly "green" burial, where the grass is intentionally kept longer, like a traditional mountain meadow, dotted with natural granite boulders. Becky explained that green burial means different things to different people and Seven Stones offers flexibility to accommodate a wide range of needs and beliefs concerning embalming, and casket use—or not.
In the Whisper Walk Garden, the placement of cremated remains, or "cremains," is available individually or with one or more companions' or an entire family's cremains. Another option is placement in the "communal ossuary" with the remains of others who are unrelated.
While Seven Stones is a cemetery, it's intentionally designed to serve as a community venue, hosting lively and life-filled celebrations and events. In warm weather, open-air yoga classes—including "full moon" yoga—are offered, along with art festivals, a vintage car show, historical walks, nature walks, gardening workshops, and grief support gatherings.
"We even had our first wedding here last month," Becky shares, "and it was absolutely gorgeous." She gazes across the garden and points to tall white boxes sitting on the far edge of the cemetery, adding, "We also are an apiary" with local beekeepers visiting regularly to tend the hives.
All of this activity, celebration, and fun seem almost counter to what cemeteries are about, yet Becky and the Seven Stones team see it simply as celebrating the circle of life.
"Life is kind of like a tapestry," Becky says. "Everyone's story you encounter becomes a thread woven into your own tapestry, and from our earthly vantage point, you can see all of these loose ends, but when you finally make your own journey from this earth to heaven, you get to see all of the threads come together in a glorious way that makes it complete and so much richer."